What is Framerate in Gaming?
What is Framerate in Gaming?
Published: 25th May 2015 | Source: OC3D |
What is Framerate in Gaming?
The frame rate debate has been going on for many years now, with both sides of the argument not backing down from their respective opinions. With most console titles being made to play at 30FPS many wonder why we need to go to 60 or higher, saying that 30FPS is adequate or that the performance required to get a game to play at 60FPS is better suited to increasing a game's graphical fidelity.
While increasing the graphical fidelity sounds great, I prefer playing a game at a more smooth 60FPS, with many gamers choosing to go even higher with the growing popularity of 120Hz+ monitors. The first image below will show you the differences between some framerates, though if you are not using a 120Hz monitor you will not be able to see the difference between the 120 and 60 FPS examples.
The majority of those reading this will be using a 60Hz display, allowing you to view 60 frames per second on that display. The film industry today plays their content at 24 FPS, with relatively few titles, like The Hobbit Trilogy, being available to view at a higher 48 FPS. In the most part gaming is in 2 camps, 30 FPS or 60 FPS, depending on the type of game and whether a developer rates graphics as more important that framerate.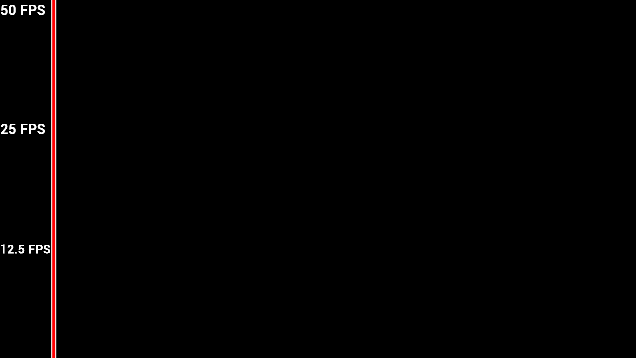 In objective terms a higher framerate gives a superior experience while gaming, as the higher your framerate is the faster in-game events can be viewed by you to act upon. For example in a 30FPS game you will see a frame every 0.033 seconds and a 60FPS game delivers you a frame every 0.016 seconds, meaning that if you were both playing against each other the 60FPS player would have a 0.016 second head start over the 30FPS player in terms of reaction time. This is one of the reasons why multiplayer game tend to play at a higher framerate than single player games, where reaction time is less important.
A higher framerate can also be used to increase a game visual appeal by making the game appear more smooth. As you can see in the above images the higher framerate lines or dots move across the screen in a smoother way, which can help immerse people into their games. This immersion factor is also why virtual reality, or VR, headsets like the Oculus Rift will be using 90Hz displays, as a smoother experience will help to further immerse players.
For a video example of 30 vs 60 FPS gameplay I have decided to post this video of Project Cars here which showcases footage of both 30 and 60FPS gameplay. You will be required to use a compatible browser and play the content in HD in order to play a 60FPS video. YouTubes compression will no doubt blur the images you see, but if you look around the car, particularly at any fast moving scenery the difference should be obvious.
When we see a game which is developed to run at 60FPS on consoles we at OC3D typically report on it in a positive way, this is not just due to the fact that we prefer playing at 60FPS but the fact that the developer has chosen the consumer over profits. Simply put the graphics of the game sells more units that the framerate of the game, even game which massive framerate issues like Assassin's Creed Unity were able to sell an extremely large number of units, whereas barely any reviews ever comment of how good the framerate is on a game.
Choosing framerate over graphics is a choice which shows the developer cares more about the player experience than sales in many cases, especially when it is in a single player game.
The framerate debate will no doubt continue for many years to come, especially as developers try to push the graphical envelope further and further on consoles with fixed hardware.
You can join the discussion and share your opinions on Framerates in gaming on the OC3D Forums.
The frame rate debate has been going on for many years now. Here is our article showcasing and describing the benefits...

Posted by OC3D on Monday, 25 May 2015
Is a high Framerate Important for gaming? http://t.co/HjDphR8C0W pic.twitter.com/LmTS6F932H

— OC3D (@OC3D) May 25, 2015
Most Recent Comments